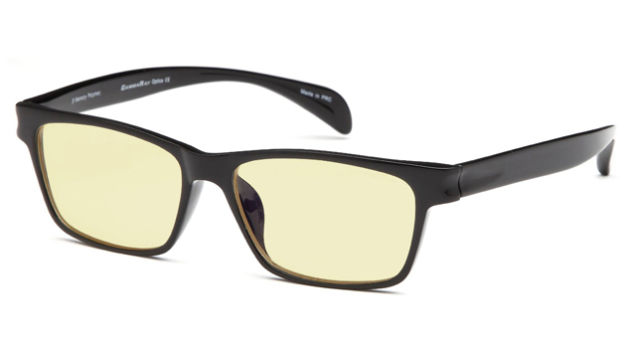 If you are looking for gaming or computer classes, you will be surprised by all the cheap alternatives to the original and highly desired but expensive Gunnar glasses. Gamma Ray is a company that I just found out about and it appears they only sell their computer glasses on Amazon.com under the name Gamma Ray Optics.
Their pricing strategy is very aggressive. You can find almost all of their gaming glasses that are tinted yellow for under $20. Some are as low as $10. Considering Gunnar charges around $60 on average for their models, this is a significant saving and worth trying out.
I picked up a pair of Gamma Ray glasses to review. They have a few different lines with multiple styles. They include:
I decided to pick up a pair of their cheapest gaming glasses  to review. The GAMMA RAY VALUELINE Computer Glasses Anti Blue Ray Anti Glare and Anti UV Monitor and Screen Glasses. These were on sale for 75% OFF.
Many of you are wondering if gaming glasses work, and I can respond with a definite YES!! Eyestrain is a major problem in today's society. Everyone is constantly starring at a computer screen or other device. Overtime your eyes become strained, get blurry, fatigued, and soar. This causes headaches as well as other problems that are easily avoidable if we take the right precautions. Gaming glasses are a step in the right direction.
There are other ways of achieving the goal of reducing eye strain while staring at a computer monitor. You could install a program such as F.lux which adjusts your monitor to more natural and pleasing levels.

Ok, so onto my review of the Gamma Ray Optics computer glasses. I picked up this model because it was their cheapest pair and I wanted to compare that to my expensive pair of Gunnars. Based on just the picture above it is probably hard for you to tell which pair is which. Gunnars feature more of a yellow tint vs the Gamma Ray glasses features a semi yellow tint. Based of of that we now know that the Gunnars are on the left and the Gamma Ray glasses are on the right.
Build Quality: Both pairs feel fairly similar and are very well made I am sure you wouldn't be able to tell the difference if you were to just put on the frame without knowing the brand.
Comfort: Both pairs are comfortable and fit to my head but everyone is different so it is hard to tell if you like this style or not. Some people do not like glasses that wrap behind their ears.
The flexlite line allows

RX Compatible allowing you the option of having your optician replacing the lenses with your own prescription lenses. This seems like a lot of work and may be costly depending on your eye clinic. On the other hand you can just give Gunnar your prescription and they will give you a set price and custom build the glasses for you.

I am pretty sure all of the Gunnar glasses have a slight magnification to them which really helps when you are stating at a screen. Th Flexlite line is the only line where you can choose your magnification. Gunnar does not allow you to choose your magnification unless you get a prescription pair.
Both pairs have an anti-glare coating on them but it appears that the Gamma Ray glasses smudge easier than the Gunnar Optics do.
The Gunnar Optics come in a soft baggy and a hard case will cost you a bit more unless you use a generic hard case. On the other hand, Gamma Rays come with a hard case and cleaning towel.
Overall for the price the Gamma Ray compute glasses are worth trying out if you can't afford to purchase Gunnars. These glasses will not replace my Gunnar glasses mainly for theses reasons:
Gunnars feel more comfortable and lightweight. I barely notice that they are on.
Their yellow tint seem more comforting.
They are more curved which Gunnar says it helps reduce the effects of your eyes drying out.
Incoming search terms:
gamma ray optics
gamma ray optics computer glasses
gammaray ptics
gammarayoptics com
Tagged with: Essentials • f.lux • Flexlite • Gamma Ray • Gamma Ray Optics • Gunnars • Titanlite • Valueline
Filed under: Gamma Ray • Gunnars
Like this post? Subscribe to my RSS feed and get loads more!